Star coupling manufacturers, exporters, suppliers and dealers in Ahmedabad, India
We Spark Coupling are into the business of manufacturing of star coupling or spider coupling since 1993.
We assured high quality product along with quality service. Star coupling or spider coupling is set of rubber spider and flange with hub. We are using high quality spider and it helps in durability of the coupling.
We can customised quality according to the client's requirement. Our coupling is made on cnc and vms machine so it is very good in finishing and quality.
Material : CAST IRON AND MILD STEEL
PART LIST
SR.NO
PART NAME
MATERIAL
1
Coupling Hub
Cast Iron ( GG 20 )
2
Star/ Spider
Nitrile Rubber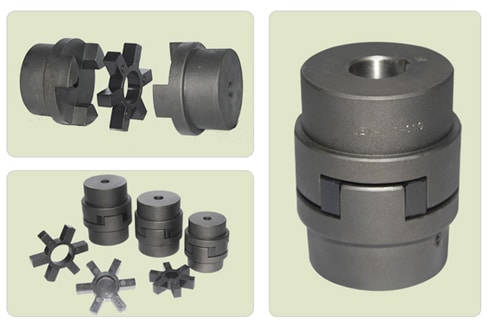 TYPE – S
SIZE
RATED HP AT RPM
RATED TORQUE
BORE SIZE Ø P
JAW DIA.
HUB DIA.
TOTAL
LENGTH THROUGH
GAP BET.
DIST.
BETWEEN
WEIGHT PILOT COUPLING
 
1000
1500
3000
kg-m
PILOT
MAX.
ØJ
ØH
LENGTH L
BORE   G
JAW & BODY  F
SHAFTS D
(APPROX)KG
75
1.0
1.5
3.0
0.71
9
22
44.5
39
55
21
2
13
0.45
95
2.8
4.2
8.4
2.00
10
28
54
49
63
25
2
13
0.80
99
4.0
6.0
12.0
2.86
10
30
65
51
72
27
3
18
1.15
100
6.0
9.0
18.0
4.29
10
38
65
57
88
35
3
18
1.55
110
11.0
16.5
33.0
7.87
15
42
85
76
108
43
3
22
3.25
150
17.0
25.5
51.0
12.17
15
48
96
80
115
45
3
25
4.15
190
22.0
33.0
66.0
15.75
20
60
115
102
133
54
3
25
7.45
225
33.0
49.5
99.0
23.62
20
65
127
108
153
64
3
25
9.95
key-tag of Star Coupling:
Star Coupling Exporters in India, Star Coupling Manufacturer in India, Star Coupling Supplier in India